I've had a tune dancing around my head for most of the day – a Howard Jones one. One of my sisters was the Howard fan – not me – in fact her first boyfriend and subsequent husband had a Howard haircut – spikes, mullet and all.
This particular section of words was bugging me so much, I decided to find and download the track.
Found out it was "Hide & Seek" and the lyrics dancing around were:
"so she had built her elaborate home, with it's ups and it's downs,
It's rain and it's sun
She decided that her work, it was done,
Time to have fun.
And found a game to play.
Then as part of the game,
She completely forgot where she'd hidden herself,
And she spent the rest of her life,
trying to find the parts.
Hope you find it in everything, everything that you see".
Wow! If that is not a subconscious need for me to put on "my oxygen mask" and make more "me" time, I don't know what is!
And then I listened to another one of his songs "New Song" and found those lyrics quite deep too:
"I've been waiting for so long
To come here now and sing this song.
Don't be fooled by what you see,
Don't be fooled by what you hear.
This is a song to all my friends,
They take the challenge to their hearts.
Challenging preconceived ideas,
Saying good-bye to long standing fears.
Don't crack up,
Bend your brain.
See both sides,
Throw off your mental chains.
I don't wanna be hip and cool,
I don't wanna play by the rules.
Not under the thumb of the cynical few,
Or laden down by the doom crew."
That song could be an anthem for me, trying to get awareness for autism out there, against prejudice, discrimination and Government cuts.
New listening experience today, new vigour, thanks Mr Jones!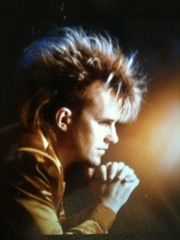 As ever, happy for comments/RTs etc Jx 
And then I read today's horoscope (twilight zone time):
Friday, March 23, 2012 – You may be feeling nervous today because things seem to be simultaneously speeding up and slowing down. Naturally, you like the excitement of so much going on, which encourages you to move faster than the legal limit. Even if you enjoy the pace, give your adrenals an opportunity to replenish your energy. Don't overdraw on your reserves. Breathe deeply and stop what you're doing for a moment. You'll feel better once you relax.
---
---