D has a different teacher Thursdays and Fridays and went in very well today hmmm…
I did a blog about a man I saw today "Flapping and Roadworks", it really made my day. Have a read if you haven't already and …smile!
As D has to do the afternoon walk home on a Thursday – buggy taken up with Mr H and Mr O – it was ice cream from the van time after school. There were a small group of teenagers about ten feet away from the van and she would not go near it or them. Too much anxiety. She did some tree-hugging (which got some looks) whilst I ordered.
The ice cream took her focus away from other people and so, with one arm around her and one pushing the buggy, we got home.
I probably made the mistake of showing D I'd downloaded the Humf apps onto the iPad – proved extremely popular (very colourful and interactive), that kept her occupied for quite a while!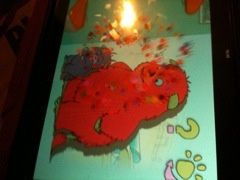 Bathtime tonight was accompanied by Super Mummy and the TRex again, Super Mummy went to school today too, bless her.
So…a much better day. Comments/RTs as ever welcomed J 
---
---