There are a lot of roadworks going on in our village at the moment. Lots of resurfacing and digging up old pipes. Maybe the council is rushing to use up its budget before the new tax year?
Anyway, just beyond our shopping centre there's major activity. The road is closed off for two weeks and the workmen have dug about 5 feet down. There are LOADS of drivers who ignored the signs that it would be closed off, lots of reversing and dirty looks directed at the workmen.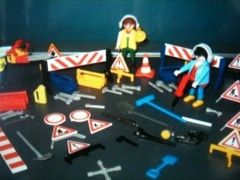 I was walking past it all today and in the midst of all the chaos, there was a middle-aged man watching with a huge smile. He had his arms behind his back.
As I got closer to him, his smile got wider and he started flapping and then his arms went behind his back. Then the workmen must have done something else that excited him because that huge smile came back and he was flapping again.
The workmen were getting on with their work and just letting him watch and flap. Passers-by just walked past. I guess it was a good time to be watching and flapping – no school children about. He was just happy watching them.
As I walked past, he unexpectedly started flapping again and caught my arm. It didn't hurt and he apologised immediately whilst still fixated on what the men were doing.
I carried on to nursery to pick up Mr O, grateful that he was happy watching what they were doing and they were letting him.
It made my day  comments/RTs as ever welcomed J x 
---
---