A day of reflection today..
D went into school VERY badly this morning. It took two staff to physically get her through the door and all the while she's saying "I want to stay with you, Mumma". Part of it is repercussions from Bunny on Monday, I think, and part of it is…I don't know!
Sometimes she gets so full of anxiety that she is physically unable to tell me. That tears me apart but it also leaves me very grateful that – anxieties aside – she is able to tell me things.
The episode at school kind of set the tone for how I felt for much of the day. Mr H and Mr O kept me very busy but my thoughts kept returning to D and how she was doing.
There was a Farmers Market in our precinct today – it's once a month – and there must have been half the stalls that there normally are, it shocked me. You get used to seeing the same people there with their fruit & veg, eggs, meat, garden statues – all locally produced. I don't know if the prices have gone up for them to be there or some other reason, but it was very noticeable.
Whilst Mr H and Mr O were asleep, I tried to think of things I could do to raise awareness for World Autism Day. Sent out a few emails, we'll have to see if there are any returns.
D came out of school very subdued, she'd had a very unsettled morning but joined in a bit this afternoon. I did mention to the TA who brought her out that Monday (Bunny) was probably behind it and she agreed with me. D wanted to behave like a bull and crash into lamp posts in the way back – this was gently but firmly discouraged!
Bathtime tonight was accompanied by a plastic multi-cultural figure who had a hearing aid – we have a whole range of these, with various visible disabilities. This particular one was me apparently because she had yellow hair – "Super Mumma". This figurine "flew" around the bath on a back of a T-Rex. Be nice if that was real life! A happy D after that.
Tonight's picture is of one of my cats, simply because she's a lazy thing and this is how she spends 99.9% of her time, also her ears are spectacular!
Comments/RTs as ever welcomed Jx 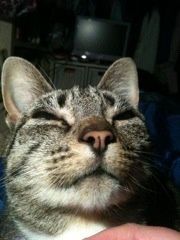 ---
---