I found Saturday evening too much to be on Twitter. The thought that an incredibly fit and healthy 23yr old footballer could be fighting for his life and online, people were wishing him dead for no other reason than his skin colour and the football team he played for….unbelievable.
And then this appeared on my TL, a new prime-time show on Channel 4, the billboard is below: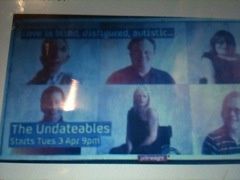 It's both disturbing and offensive on so many levels. To those adults with any of these disabilities, it gives the impression that no-one will ever find them…dateable. What happened to inner beauty? To loving someone for who they are? This sort of advert is only going to encourage more of the negative discrimination we are witnessing in Society.
Of course, Channel 4 are defending it by saying:
"The Undateables is a programme about people looking for love – but with a difference.
The series follows a range of people whose ability to form relationships is affected by an impairment or challenging condition – such as being deaf, having Tourette's or Aspergers. The programme charts their quest to find love in an image-obsessed world where people are too quick to make snap judgements or assumptions based on first impressions – and even consider such people to be "Undateable".
With the help of one of the biggest personal introductions agencies in the UK, and using pro-active searching methods to find perfect dates, the series looks to help find love for those who until now found it difficult to date. Looking for matches within both the non-disabled and disabled communities, the series sets out to revolutionise the dating scene and turn society's prejudice on its head.
The Undateables is an uplifting and moving series exploring how society's attitude towards anyone who digresses from what is considered to be the norm can have a profound impact on those peoples lives."
Fair enough you might think and if it raises awareness of how lonely life can be for disabled young adults – all well and good. I hope it is done in a sensitive manner but I still do not like the title and if I see that billboard anywhere, my first thought will be to rip it down.
Comments/RTs as ever welcome, I think I'm going to try and get this post out there a lot today Jx
Update on 26th March:
I've emailed my blog and comments to both Channel 4 and their twitter address @4viewers. I will update this post with any responses received.
###############################################################################
Update on 27th March:
Response received from Channel 4 – see below:
Dear xxx xxxxxx
Thank you for contacting Channel 4 Viewer Enquiries regarding THE UNDATEABLES.
We appreciate your concerns about this programme, as you feel it is insulting to people with impairments or disabilities. However, we can assure you that this is not the intention. The title conveys how they may feel when it comes to love or how some of society may see them, but it is not intended to label them as such; rather, to challenge this view.
We can assure you that all the participants are fully aware of the nature of the programme and are keen to participate.
The programme makers are working closely with a number of experts in the field, to ensure all aspects of the series are handled in an insightful and sensitive manner. We hope that you will take the time to watch the programme to make up your own mind.
Nevertheless, please be assured your complaint has been logged and noted for the information of those responsible for our programming.
Thank you again for taking the time to contact us. We appreciate all feedback from our viewers; complimentary or otherwise.
Regards,
Angie Young
Channel 4 Viewer Enquiries
For information about Channel 4 have a look at our FAQ section at http://www.channel4.com/4viewers/faq
###############################################################################
---
---