If you haven't yet read today's post on "The Undateables", please can you and also comment. The more comments, the better. I'm going to send them all off to Channel 4.
Anyway, on with the day:
Loads of reluctance from D this morning. Monday morning grumpiness plus the fact her class was going on a trip and she was worried she wouldn't be able to take Bunny (Bunny is small and cute and goes everywhere with her – comforter)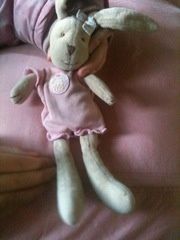 It took two members of staff to get her in the classroom today and that was on the assumption that Bunny would be going with them, but staying on the school bus – as agreed verbally with TA this morning.
Ahem…she came out of school this afternoon very tired, very pale and looked like she'd been crying. Bunny did NOT go with them, her teacher said he/she/it was not allowed. D gets so distressed at being apart from Bunny, I can only imagine how sad she's been.
That set the tone for the rest of the day really. D was very up and down. Not very impressed that one member of staff said yes to Bunny travelling and it didn't happen.
On a lighter note, I found these two pictures in Clintons today, great slogans on both: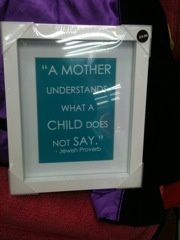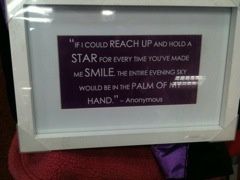 Hoping for a better day tomorrow, comments/RTs as ever welcomed Jx 
---
---