Mothers Day in the UK today, here's my card from D: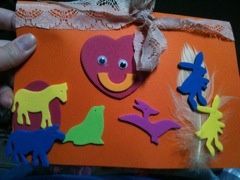 It also had "happy" veg with googly eyes on the back.
Mothers Day in our house meant "man flu" – yes Hubbie still has it – an adherence to the usual routines and a few meltdowns from D, usually as a result of play that wasn't going her way with T.
I couldn't see my mum (infectious flu germs) but did do a blog post for her (see earlier post today) and we did speak to her.
I wasn't "doing" twitter this time last year, and it's only via timelines that you realise that people today are obviously missing their angel children and their mums who have passed away and then you realise how lucky you are to all be together today – even if at times Mothers Day seems another excuse for Clintons to make money (all their card displays will have changed by the morning, making way for Easter?)
So, on reflection -and man flu aside – my family have all got our health, the children are all happy – and that makes this Mumma happy too.
Comments/RTs as ever welcomed Jx 
---
---