As is usual, the menfolk came back from their football match (T's team unfortunately lost 1:0 away) with a mocha for me and something for D.
They normally bring her back what she calls a "doughball cake", it's a Costa Rocky Road cupcake and she'll give away the marshmallows on the top and really enjoy the rest – that's what baby wipes are made for, after all!
There weren't any of the cupcakes in today so Hubbie brought her back a chocolate nest cake – choc covered cornflakes with mini eggs on. Yum yum or so you'd think.
D likes cornflakes, she likes chocolate and she likes mini eggs so… shouldn't be a problem? Wrong. The combination was not right and it did not look right, therefore she wasn't going to try it.
It made me remember all those programmes and cooking suggestions where you try to get your toddler to try new food by disguising it as a boat or an animal. "Big cook, little cook" was always making food like that. None of that worked for D because it did not LOOK right…why would she want to try a sandwich that looked like a snail? To D, a sandwich is meant to look like a sandwich!
For years she would not eat broken up Easter egg chocolate because the shapes were wrong, she would only eat round chocolate – ie buttons.
So much of D's food likes and dislikes are based on the sensory aspect of it – for instance, just the sight of jelly will make her physically sick. Interesting to say the least in experiments with cooking at school.
She is happiest eating her foods, that look like …well…food!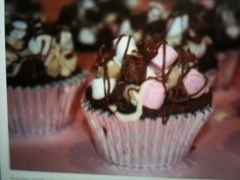 Comments/RTs as ever welcomed Jx 
---
---