*sighs* As you may know, the house has been hit by a fate worse than flu…manflu. Poor old Hubbie. I promised I wouldn't say too much about the geriatric appearance he's taken on (whoops) or the refusal to take any medication until the very last minute (or when I'm close to administering it elsewhere because he isn't)…he's suffering…
Anyway – thanking everything that I can think of – T and D are showing no symptoms yet (phew), getting medicine inside D when she is ill is a two person job, involving a syringe and a great deal of tolerance.
She had a little bit of reluctance with school today, obviously routines upset this morning as Hubbie was home, ill. She got persuaded in by a TA, PE was first I think this morning.
I trotted home to play nursemaid until picking up Mr O and catching up on my #ff once Mr O was asleep, thanks to everyone for them.
D came out of school really really happy, singing away. I think they must do Music Friday afternoons because she was the same last Friday too. We went to see the Ultravox reunion concerts two years running a couple of years ago, took D with us – complete with ear defenders – as she wouldn't be left with anyone. Anyway, she loved both concerts and really enjoys singing along with the live CD, it was one of the songs from it she was singing, together with the accents and the talking to the crowd.
Her singing got us home – I ignored any looks, she was happy.
Trampoline play for T, D and Mr O – which went well.
After tea and Mr O had gone, more singing whilst she was drawing for D. This is one of them, the picture is of D, flying. She's always saying she wants wings.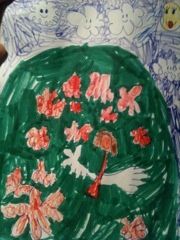 I love the smiley clouds and the sun .
Bathtime was accompanied by a plastic lettuce and plastic spaghetti bologna. It was not allowed to get wet! D spent a lot of time squeaking instead of speaking, songs were squeaked, as were instructions. She wasn't upset by anything, just in a squeaking mood!
So (manflu aside)…a good day for us. Hope you've had a great Friday.
Comments/RTs as ever welcomed Jx 
---
---