Our day started with Mr CM arriving at 8am. D is normally really pleased to see him and he'll always come straight in the house calling her & T's names. I'm "Net" – which is quite cute  D was more concerned that he might eat her breakfast than anything else this morning.
School runs went well, albeit very very foggy. I was really concerned with D's school trip. Where they were going is really remote but off a busy road and… well, I phoned up to check they'd got there okay.
She came out at the end of the school day really tired, but really happy. They were back at school in time to watch another class do their "Gingerbread man" production. Things like that she would have missed in mainstream, she was too scared to ever go in the hall – too noisy, too many people, unfamiliar surroundings etc.
D was going to have to walk home today – full buggy – and luckily the ice-cream van was parked near school – no queue, perfect. Buying her an ice-cream cone served two purposes 1. She concentrated on that so didn't get upset by people around her and 2. It took her the whole ten minute walk to eat it so no moans about walking. (Hubbie was picking up T in case you're thinking what about him). The ice-cream man very kindly gave Mr CM and Mr O both free cones with a tiny bit of ice-cream in them too, bless him.
D joined in with the boys for a while on the trampoline once we were back but soon got upset by their games – stomp, stomp, fists clenched, shout shout, strop.
Both Mr CM and Mr O were gone by 530pm so we have had a bit of family time but Hubbie has now got my flu, so he's suffering.
Tonight's bath was accompanied by four plastic strawberries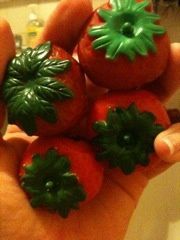 She's gone to sleep tired but happy. In case you missed my blog post "I'm taking off the Oxygen mask.." please have a read, it's about encouraging time for yourself as a special needs parent, something we don't have much off.
Comments/RTs as ever welcomed. I don't have Mr CM tomorrow, just Mr O and my 2, so I'm hoping for a tiny bit of me time at some point Jx 
---
---