It gets to this time of night and I'm thinking "what IS the day…and the date?", been a long one today…
I'm feeling much better flu-wise but the dodgy thermostat effect has kicked in from time to time – hot and then shivery. Silly little cough still here too.
We had the nearly-2 year old from 8am today, always bounds in, looks first for the cats and then needs his cuddles, bless him. T and D adore him, he's a "chunky monkey". Let's call him
Mr CM.
The school runs went very well, once I'd prised Mr CM out of the trampoline. D was overjoyed to see her TA from last year at school. Her old TA is lovely, always smiling, always full of life but takes no nonsense from the pupils. D's face lit up as soon as she saw her and she actually walked into her classroom by herself today – ie. No coaxing from me or a TA from class. SO proud of her, she hasn't done that since previous class (with old TA). Which when you consider we're in March now, is an achievement 
I went about my day with Mr CM and then picked up the 4 year old from nursery, Mr O. They do get on but Mr O can be very mischievous and lead Mr CM astray. This happens a lot.
Bundled them both into the buggy for a walk after lunch, neither slept .
D came out very well, full of concern about the school swimming pool. Last week they couldn't swim because a lightbulb had broken in the pool, this week there was too much chlorine in there. Her class all enjoy the swimming and mostly splashing (it's a proper hypotherapy pool) so they must have been disappointed .
She always has a kinder surprise egg on the way home and this was today's gift: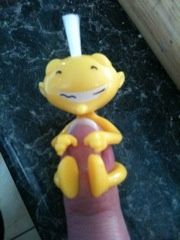 it's a tiny paintbrush that you put on your finger and I thought I'd share as what a good idea for those children who can't – or have trouble with – grip.
She was fascinated by it.
She found Mr O and Mr CM combined a little bit too much at home so did some drawing in her room, this is one of her efforts on the Crayola lightstation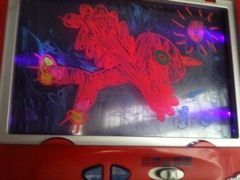 looks very pretty lit up.
Tonight's bath was accompanied by characters from My Animal Farm, again not allowed to get wet, bless her. Mr Men stories before sleep.
She's off to a special needs adventure playground with her class tomorrow, its wonderful there and only open to special needs families, schools and groups. The only place – external to home – where I see her truly happy and secure. We go there in the holidays and for birthday parties.
Hope you've all had a good day, comments/RTs as ever welcomed Jx 
---
---