Flu day 4: yay! I am now longer resembling a dodgy thermostat, well not much. Temperature fluctuations have decreased and I'm left with a stupidly annoying cough, which has led me to a decision today…
I'm taking steps to cancel my childminding registration. I want to be with my children after school, instead of waiting til after 6pm to relax with them. Viruses are passed around too quickly with external children here, this is where my flu came from and with D's convulsion history, that needs to decrease too. So…I'm going to need to find something that's school hours with school holidays off…from September. School work sounds obvious but I don't think there's anything going at T or D's schools, will have to keep my ears to the ground.
Much as I would love to stay at home and write all day, that isn't going to put food on the table.
Anyway, on with the day:
I posted a picture of D's toast this morning, she was so determined that she wasn't eating the crusts, it just looked SO funny, here it is again below.
A lot of reluctance from D regarding school this morning, she's slept a lot better last night but didn't want to leave me (it was mutual, bless her). There was quite a bit of shouting on the way to school (her not me) and she was NOT interested in the calming influence of Mr Paddie (iPad). Poor bunny got thrown across the corridor as soon as we got into her school. It took two staff members to get her in the classroom. I watched from a distance and then sought the sanctuary of Costa before my flu-y minded child arrived. 
She came out quietly but positively at the end of the day. Very pleased to see me.
Which lasted until we got home. After that, little things seemed to upset her and cause meltdowns – me asking her to put her shoes in the basket, Hubbie sitting next to her – stomp stomp stomp shout shout.
Bathtime tonight was accompanied by:
A peppa pig compass
Three plastic "gold" coins
A red plastic pig
And
A pirate playmobil man
And none of them were allowed to get wet!
As opposed to me reading to her, tonight she read to Hubbie and I before bedtime. She did very very well – kept calling "humpback" "lumpback" but wonderful stuff.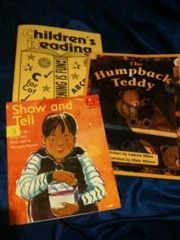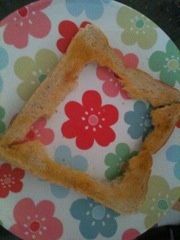 So, an up and down day but ended well. I hope you've had a good day too.
Comments, RTs as ever welcomed Jx 
---
---