Flu day 3: urgh. Terrible night of non sleep last night. D slept really badly too, kept coming in and needing cuddles and reassurance. The best sleep I had was between 530-730am.
I kept D off school today, she was over-tired so would have been unco-operative, a nightmare to physically get in the building and would have probably spent the whole day in tears.
Hubbie had taken T to school so I knew I just had to get through the afternoon school run.
D spent a lot of the day drawing – as you probably know by now, that's her relaxant – and making a craft maize face.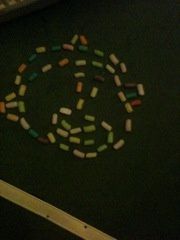 T was delighted to see us at the school gates. I had the healthy glow by then of someone who'd spent time at the gym!
They enjoyed some Trampolining and climbing frame play after we got home.
A couple of stroppy, storming-off moments but then she was tired.
She is so into her reading now – she learnt to read by memory, not phonetically – I think one of my first blog posts was about that ("reading – is there a right way?")
Tonight's bath was accompanied by:
Patsy the horse
Percy the pig
Sally the ewe
And
Henrietta the hen from her "Animal Farm" collection. As per usual, they were NOT allowed to get wet.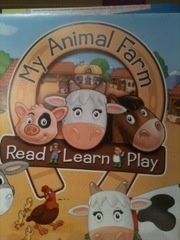 Hoping for a better night tonight. Today's blog post was on Manners, please have a look if you haven't already.
Comments as ever welcomed Jx 
---
---