Ooooh, we had a bad school run this morning. Lots of reluctance, lots of shouting (D, not me). "Mr paddie" (iPad) was not welcomed or appreciated. Eventually got to school, Bunny thrown across the entrance – poor Bunny, she does bear the brunt of strops sometimes. Normally I wheel D's buggy to the classroom door but she was so angry at being there that she was wheeled in and the door shut – to stop her bolting. Luckily the rest of her class had gone off to PE, so it was me, D and the teacher. She eventually calmed down and we did some PECs on the day, date, weather etc before I went. Phew!
A minor victory today in that T's mainstream school have agreed to having some autism leaflets in their reception area and a National Autistic Society collection tin, yay! I figured if you don't ask, you don't get. 
D came out of school very happy (a completely different child to this morning) and sang one of her favourite songs all the way home – very loudly! I have to walk past two schools to pick up T but at least she wasn't either shouting in anger or melting down.
She got a certificate at school today for "good work" – or "bertificate" as she calls it. Proud mumma moment . She didn't want to sit on the special bench to receive it and school didn't force her to, I'm thankful for that.
Her happy mood continued all evening, more loud singing in the bath (same song) and quoting of the Churchill Insurance advert verbatim. Absolutely word perfect. She will do that at times – adverts that you just glance at and discard, it all goes into her amazing memory, and then comes out at strange times, bless her.
So…not brilliant start but good end. Hope you've all had a good day. Today's picture is from a little glass ornament that I have, I like the message  I was going to have this as my avi but the painting that D did of me won hands-down.
Have a good evening 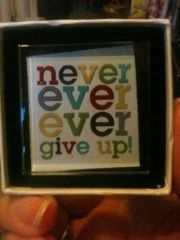 ---
---