Today did not start off well, D took her plastic grapes and plastic tomato to bed with her last night – as well as Bunny (who goes everywhere with her) – and somehow the grapes had disappeared by 530am this morning. Tears aplenty. She didn't go back to sleep unfortunately.
Neighbours had their windows replaced today, safestyle windows (oh yes, I'm naming & shaming you) started banging around from 645am – we're in a semi – so poor D spent most of the time before school with her hands over her ears. I did go out there just before 8am and ask why they'd started so early and got that "don't know what you're talking about, love" gesture – patronising inconsiderate bunch.
All fine on school runs, "mr paddie" (iPad) providing entertainment, some reluctance to go into class today, D does have a different teacher Thursday and Friday and she doesn't like the change to routine.
A new blogpost whilst T and D were at school "Friendships & playdates" – welcome comments please.
As we all know, World Autism Day is on 2nd April, I spoke to a journalist from our local paper and he's agreed to run a story around that time to coincide. He's taken blog details and I have to email him photos – should help raise a bit of awareness locally anyway. Still no shopping centre news but I've been given a forwarding address in their marketing department who will look at it. Further leaflets came today so I have a huge box of leaflets, collection tins, tshirts, balloons and stickers – just need the go-ahead.
The afternoon school run was not good. D had to walk as I had a full double buggy. We took it very slowly but the people walking near her caused a lot of anxiety – even if they were out of radar quickly. She has told me before she worries that they're going to take her away.
She spent most of the walk – once we were away from people – purposefully bashing into lampposts and walls, really slamming into them. Couldn't get home quick enough!
Once home, I gave her some bear hugs – she likes those – and asked her very gently why she'd bashed into walls and lampposts on purpose. She said she had been being a bull! Now whether this is because she had seen cartoons where bulls charge when they're angry or whether it's because we're collecting "my animal farm" – a new weekly publication and this week's gifts included a bull, I don't know. I am very grateful that she can verbalise once she is calm. So grateful.
Tried to keep things as calm as possible from there on.
Her brother – T – is learning the trumpet at school, they played "we will rock you" and according to T it was "pfft. Pfft. Pfft. Pfft. Pfft Pfft" – very funny.
Tonight's bath for D was accompanied by a plastic Smurfette, a little blue ball with a face on and two little plastic red animals – once again, they were NOT allowed to get wet.
Said toys & Bunny have gone to bed with her.
So… bad start, bad middle bit and nice end. Hope everyone has had a good day.
Tonight's picture is Bunny. She goes everywhere with D – everywhere at home, school, shops etc, a very faithful companion 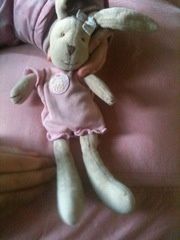 ---
---