D was really excited when she woke up, one of her classmates had a birthday today. She did a card before breakfast, lots of detail in it. She told me that her classmate was going to be 9 years old, D is 8 in May – D is definitely one of the youngest, if not the youngest in her class, in some cases by over a year.
Made a mental note to query this at the next parents evening – whilst D may be intellectually on a par with them, we've been told emotionally she's about 3 years below her age.
School runs etc went well, the Birthday child was definitely 9 today, lots of badges on. Hmmm….
Was a bit down this am – see "United we stand" blog post but the responses from followers was wonderful, thank you 
Slight movement on my "world autism day" plans – will update more when can.
D came out very well, full of stilted chat about the birthday cake they'd had in class. We got home to find Bitsey (the cat who thinks she's a dog) and Itsey (the cat who thinks its a squirrel) waiting for us!
Trampolining in the garden for all, causing a few meltdowns and anger on D's part. Took some calming down.
More "rock, paper, scissors" after tea – again by D's rules but still enjoyable, especially when all three of us had the same one.
D's bath toy tonight (she doesn't take her bud ducks in the bath) was a little plastic fairy. Again the toy was NOT allowed to get wet. Apparently the toy looks like me because it has yellow hair, blue eyes and…wings! Never noticed that about me, bless her.
That's our day, hope you've all had a good one J 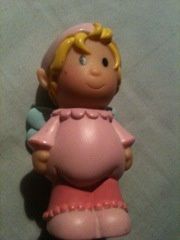 ---
---