At one of my twitter buddies suggestion, I'm going to try and keep a daily diary post (did you know by the way that diary and dairy are so similar, never did until I just mis- spelt it – today's fascinating fact )
Yesterday was taken up with the aftermath from Sunday's "itch-bugs and poppy seeds" episode – see blog post.
Aim of the day was to keep D calm and relaxed, I kept her off school as she was WAY too tired to cope with the excitement and hustle and bustle of the class, even though there are only 8 of them.
All went very well and she happily watched her favourite DVD – Rio – in the afternoon.
Part walked, part went in her buggy to meet T, bitsey (the cat who thinks she is a dog) chasing us back as per usual.
Unfortunately things deteriorated after she decided to eat a flower from the garden. She normally just picks them and either pulls them to shreds or puts them into water. This particular plant was, I knew, posionous if the bulb was eaten, I didn't know about the flowers. Therein followed a frantic – on my part, and hysterical on her part – ten minutes when I had to research if I needed to take her anywhere medical to be seen. Fortunately not, but it took a good while to calm her down afterwards. Made her kiss me to reassure her that she couldn't be harmed by the flower or harm me. I think she understood not to eat them again.
Once she was happier, she and T played happily in the garden, on the trampoline and hide & seek. T being very considerate of her.
Calm for bath and bedtime routine, phew.
What made me wonder though – she is SUCH a fussy eater but chose something from the garden? That sensory curiosity, I guess.
Comments & RTs as ever welcomed 
This isn't what D ate, obviously, but some blossom on my plum tree 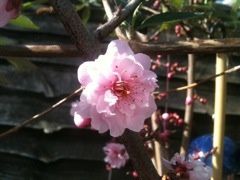 ---