We had a nice, quiet weekend. Meltdowns were minimal and short-lived. D spent a lot of the time drawing, colouring and making craft items. The drawing always relaxes her, she does some wonderful pictures.
Sunday night is always hairwash night and a comb through with the nit comb – or itch bug comb as D calls it. We very rarely find anything but it's always good to know that she's starting a new week at school nit-free.
I have tried suggesting to her that we do this on a weekend morning but it's always met with resistance – the routine is for it to happen on a Sunday and that is that.
Hubbie & I had had soup & poppy seed rolls for lunch and D had tried some of the inside of the roll but no soup. Strange texture and green, a definite no-no.
Anyway, bathtime beckons and all is going well…until I find a poppy seed in her hair – she does tend to move her hair away from her face irrespective of whether she has crumbs on her hands or not. I comb out all sorts of things sometimes!!
D immediately looked at the poppy seed and thought it was an "itch-bug" – no amount of persuasion could tell her otherwise.
Hubbie brought up a poppy seed roll to show her but this didn't help.
A meltdown ensued in the bath and a complete refusal to have her hair anyway near the face or body. This was challenging to say the least!
Eventually calmness came back and Melatonin issued but, now that the idea of a potential itch-bug (poppy seed!) was firmly in her head, she took a lot of persuading that everything was okay.
You know that subconscious feeling of an itch when the thought is planted in your head? A lot of that too.
She slept eventually for a couple of hours and then was awake for much of the night, worrying and having anxieties around itch-bugs. A very similar night to when she is affected by "blank screen anxieties" which I did a recent post about. This is where the OCD element of her autism really comes to the forefront.
I've kept her off school today, she probably had about 3 hours maximum sleep and not only would she have been an absolute nightmare to physically get through the school classroom door, she'd have been extremely tired and not enjoyed the day. I'd have worried about her too.
I can't round this up with a little morale like I normally do, there isn't a solution or cure when her anxieties take over like this, but here's a picture of a poppy seed roll!
Comments, RTs as ever welcomed J 🙂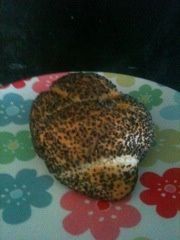 ---