Lent Day 6 and starting to wonder why I did it….
I decided to give up chocolate in all its forms bar Costa Mocha (still decaff skinny) – there is NO way I could have given those up – anyway we're now on Day 6 (imagine that Big Brother voice "day 6 and she still hasn't resisted, will today be the day?"
What I didn't realise is how difficult this would be. Don't get me wrong, I don't sit on the sofa scoffing Dairy Milk whilst watching "This Morning" – chance would be a fine thing, lol – but it became embedded in my evening to have a marzipan bar or star bar, whilst watching Corrie or Being Human.
It became my "reward" for getting through the day and, if you're a parent – special needs or not – that something to look forward too is important.
I don't smoke and we might have a cheeky glass of wine on a Friday and Saturday but that is it.
So what has replaced it?…..rice cakes! Yup, rice cakes. Bought some in various flavours from Waitrose today.
Hubbie is still having his chocolate at night and he munches away on a chocolate hob nob whist I have my rice cakes. I'm not denying the children either so we do still have chocolate in the house.
My birthday is on Easter Monday this year so I'm looking forward to some M&S chocolate cake, unless my tastebuds have changed by then.
Willpower is going to get me through this and sheer stubbornness. Hubbie will agree I am incredibly stubborn lol.
There are a couple of bars, in the cupboard, being resisted. Has everyone else given up anything for Lent and how are you doing, please let me know below 🙂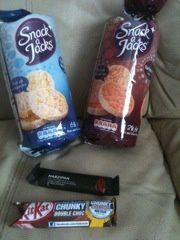 So, will she keep going (big brother voice)?
---
---