You're probably the same as me coming up to Christmas – what can I buy my child, what will they like to open?
Last year was no different. D became fascinated by an advert for Lalaloopsy dolls – two in particular Jewel Sparkles and Cookie Biscuit Crumb or something – I spent ages tracking these dolls down. Eventually bought one from a shop and one online, so relieved when I got them and couldn't wait for Christmas Day.
By the time it came to opening them, I think D had had present overload. She was very excited to see the dolls, we got them out of the packaging and she played with them once. They now sit on a shelf in her bedroom.
On reflection, I think she would have been happy with a picture of them, she does like pictures to carry around and I laminate her favourites for her.
As part of her autism, D doesn't imaginatively play, she prefers rules set out for her or being 1:1 led.
Next Christmas, unless her tastes have changed drastically, I think we'll stick with loads of Crayola pens and colouring books/paper. She relaxes by drawing and her pictures always reflect her emotions and how her day has gone.
Relatives always think I am being incredibly fussy by specifying exact things for birthday or Christmas but I don't want them to waste their money on something that will more than likely end up in a charity shop or gifted to a school fair.
Comments are ever welcomed 🙂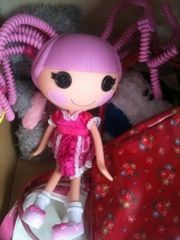 ---