Oooh, I'm so proud of my D tonight, I had to share this (I know some of you may have already seen this).
Every Saturday, the men of the house come back from watching our local non-league football team with a Costa coffee (massimo decaf skinny mocha) for me and a magazine for D. Usually it's chosen for whatever toy is on the front – sometimes it's Ben & Holly, Cbeebies etc and more often than not, she'll ask me to take the toy off, play with it and discard the magazine (we have LOADS, use the stickers for crafts and the magazines for stories, cutting etc).
Today's magazine was a new one – Disney Crafts one – free little painting sponges on the front which were quickly used to make a picture and lots of craft ideas etc. D loves Toy Story and
Monsters Inc (she is not a girly girl into Barbie etc) so she enjoyed looking at the pictures.
She asked me for some pens and scissors and then I noticed that she was following the instructions for a slinky dog craft idea – reading them and following them! All by herself! Amazing! (excuse all the explanation marks). When we do craft bits at home, she has to really be in the mood for it – one distraction or noise or irritant and the moment is gone. Same at school, slightest distraction and it's not happening.
Anyway, underneath is the finished article. She wanted some help with the paper folding for the slinky bit but apart from that, the cutting, the colouring is all her own unprompted unaided work. Definitely her relaxed state helped her concentrate enough to focus on the task.
Good, eh?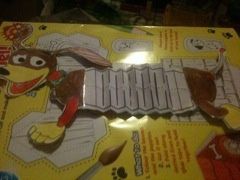 ---
---