Today we are looking after a 23 month old, D and T adore him. He's a very cuddly, smiley chap and, apart from the fact he's a weapon of mass destruction mess-wise and gets really cuddly when tired, he's no trouble at all.
I wanted to find something that they could ALL do and enjoy doing today and came up with home-made shakers.
They all had fun making them and I thought I'd share how we did it.
For these, you will need:
*Some empty toilet rolls (we all have those lol) or for a longer one use clingfilm/foil rolls
*Stickers that your child likes, we used some from Cbeebies magazine
*alphabet stickers if you have them
*Sellotape
*scissors
*sticky back plastic or clingfilm
*piece of white or wrapping paper
*felt tip pens or crayons
*dry (not cooked) rice/pasta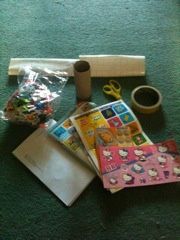 as per photo above, I forgot to include the pasta, sorry 🙂
Now, in preparation, cut some circles out of the paper for the top & bottom of your tube. You'll need two. Use the tube as your guide & stick one on the bottom – use plenty of sellotape!
Get your child to put the pasta/rice in the other end and then stick the other circle on. Don't fill right to the top, less is best if you want a good shaky sound.
Luckily we had white tubes, but if you want to cover up the dull grey toilet roll colour, use some plain white or old wrapping paper. If we'd had any really shiny paper I think we'd have used that. Foil would have been good too. Again, if you are using paper/foil secure at the ends and top & bottom with sellotape.
Now the fun bit! Ask your child to decorate the tube using the stickers and pens. We used stickers that H and D recognised and put stickers on the top & bottom circles too.
I put H's name on for him too.
Once they've finished decorating the tube, cover it with either the sticky back plastic or clingfilm. Make sure that any ends are smothered in sellotape and leave a bit extra at the top and bottom to fold over and secure with sellotape.
Job done (as DIY Dan would say), they all enjoyed that and are still shaking them!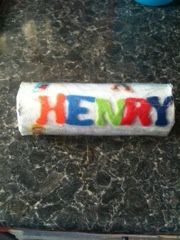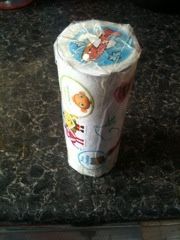 ---
---