It seems to.
A special needs buggy – Maclaren Major Elite – designed to hold a child up to age 10 or so. Is it the fact that it doesn't look like a wheechair? Or again, that this particular disability that cannot be seen.
I receive so many comments when pushing D in her buggy. They range from other children on the school run (who don't know her) calling her "a big baby", elderly customers in the supermarket or walking past us on the pavement saying "isn't she too big for that" and "shouldn't she be walking?".
So, although I know they're never going to read this:
YES, D can walk but she's scared of unfamilar places, strange sounds and people coming past her quickly scare her. It's called Autism. The buggy is the place where she feels safe, it's her "sanctuary", her "comfort zone". NO, she is not being lazy. Would you rather she was bolting everywhere without thought for her safety?
Would these people make those comments if she were in a wheelchair?
Again, it's lack of awareness. I have thought about a badge or something similar for her…but would these people actually take the time to read it and if they did, would they understand?
Maybe I should carry a supply of leaflets and hand them out whenever this happens….
This is the "offending" buggy – Maclaren Major Elite Special Needs buggy – up to about age 10, although she's on the lower level at age 7.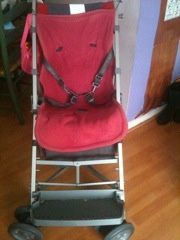 ---
---