As any special needs parent will know, the school run can be full of challenges – to put it mildly. That if you can get your child to agree to go to school!
My school run has added complications in that I don't drive and T and D go to separate schools. I won't use school transport for D, I prefer to take her, you get valuable interaction with the staff and, to be honest, if she bolted whilst entering or leaving the school bus, I don't have faith in the transport staff being able to catch her!
So, we have a 15 minute walk to T's school – usual stares at D in her SN buggy – and once he's dropped off, another 15 minutes to D's school. If she's unwilling, it can be a potential half hour of screaming, stomping on her buggy plate etc and that is BEFORE we've even got through the school doors!
I needed a solution and – for the sake of my sanity – I needed it fast….
Taa daa! Hello Mr iPad….
Now this isn't solving it everyday but it is helping. I tell her every morning before we leave that if all goes well on the way to T's school, she can use "the paddie" on the way to her school. I've now got a Griffin shatterproof case and I also attach a wrist link from the iPad to my wrist just in case anyone tried to take it.
"Cut the rope", "Angry Birds" and "Sneezies" are favourites.
Obviously an iPad is mega expensive but it does seem to be helping her, I guess if we didn't have that, we'd be using her DS or draining the battery on my phone.
We have traditionally had problems with D entering school on Thursdays & Fridays due to a different teacher – no problems either yesterday or today, I'm so proud of her (and relieved)!
Thanks Mr Jobs, may you RIP.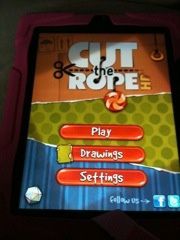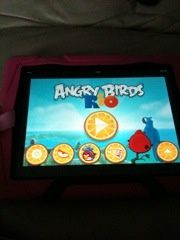 ---
---