Had the bathtime from hell tonight with D. We normally use it to chat about our day (the conversation is quite often one-way but as long as I get some information about what she's done at school etc, it's worth it)
As background: We have a picture of our landing windowsill of me, my sisters and my late grandparents. I was about 9yrs in it and it reminds me of happy times spent at their house near Hastings. They met my eldest son but died before T & D were born.
A few months back, D asked me about the picture and who was in it. I explained it was my Grandma & that she had died. Poor D jumped to the conclusion that HER grandma, my mum had died and got very upset – it doesn't help that my mum is always in and out of hospital due to reoccurring pneumonia.
Anyway, tired D in the bath suddenly bursts into tears and says she wants to be a grandma and die. She wants to be old. No reasoning behind it. This then moves on to she wants to get younger and younger and go back in my tummy – hmm, not likely!!
I've still got no idea what caused it but we had at least an hour of tears. We hadn't seen my mum today & the curtains were closed so she wouldn't have seen the photo.
She only calmed down when I got the calendar out and we worked out how long it was until her birthday and what she thought the birthday bunny would be bringing her. Her birthday is on a Sunday too – yay, no school!!
It was really really strange how that wave of negativity got her & thoughts of death etc. She's not yet 8..
I wish our referral appointment would hurry up but in the meantime, I might move that photo for a while.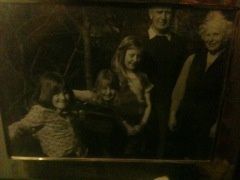 ---
---