The blob became a cat:
In Toy Story 3 there was a scene with Woody & Molly dolly and a big brown blob toy thing Rose up behind them. D became fascinated by this blob toy and wanted one. I knitted her a brown shapeless blob and sewed a face on. Went down well.
Blob thing was at the bottom of our bed. Hubbie was taking something into our room, walked past it and assumed it was a cat. Started talking to it and became worried when it didn't respond.
Do you think they look alike?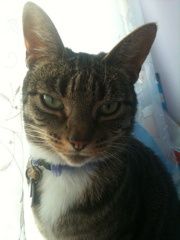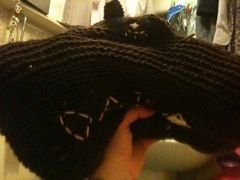 ---
---