Thankfully T woke up much happier today (the cats were better too!), D was very anxious before school as today was flu-jab day for me and her. They did have a nurse going in to do an immunisation session at school but I preferred to take her myself (and deal with any reassurance needed/consequences arising).
(If you're eligible for the flu jab – carers are – and you haven't booked your jab yet, best to do so before stocks run out. We missed out last year and D had severe flu for over three weeks, she was very poorly with it)
D had a lot of anxieties on the school run to T's school – oh, the stares – so we stopped off at the park after dropping him off. (T needing to know a very precise itinerary on the way – when was I picking up D; when was our appointment, how long would we be in there etc) D and I were the only ones in the park…bliss…and D visibly relaxed and reverted back into a happy girl.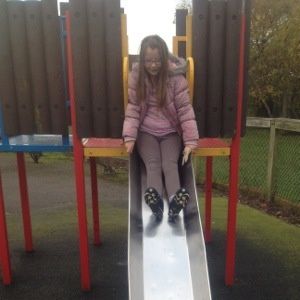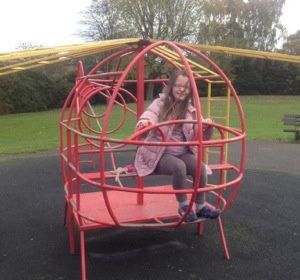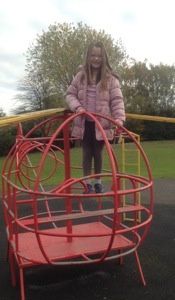 Those ten minutes at the park, together with lots of reassurance that I'd be picking her up earlier, seemed to do the trick and she was much happier carrying on to school and went off readily with her TA.
I got a lovely welcome when I picked her up and she did really really well until we got to the treatment room for our jibbie-jabbie's. The anxieties then came out in force and she took a lot of persuading to go into the room. I had mine done and then it was D's turn.
She did very well – as long as she couldn't see the needle – she played on my phone and chomped away on a bread roll whilst having a bear hug. She didn't like the jab (who does) but I think the fact she couldn't see it coming really helped.
Bless her, she's drawn a picture for Hubbie tonight of the needle that got me (!) and hasn't liked the after-effect of a sore arm. Hopefully it will be a bit less sore by tomorrow but she's not been liking the pain tonight (and won't have Calpol as she doesn't like the taste).
And this is what's accompanied her everywhere today, Bunny and a large Lego brick chock-a-block full of Playmobil animals, little princesses, a present and some "pig goes pop" burgers (as you do):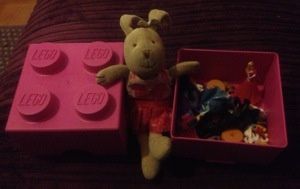 So, today's turned out better than I had anticipated flu-jab wise; at least we're both "dine". Just have to see how things pan out tomorrow with regards to her arm.
I hope everyone's had a good day, comments/RTs/shares as ever welcomed, thanks for reading Jx 😘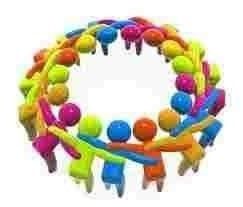 ---
---