When D was about 2 years old and T was 4, they used to love this programme.
They weren't really interested in CBeebies, their afternoon viewing was "Countdown" where they'd both say the letters on the cards – even though D had very stilted speech, she enjoyed saying the letters and then would come "Deal or No Deal". Part of me wonders if that early fanatical Countdown viewing helped with their letter recognition.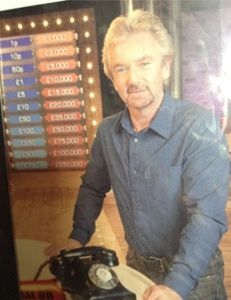 We used to call Noel Edmonds "Deal or No Deal man" and they both enjoyed looking for the 1p, I used to have to make them tiny boxes with 1p on the front and the 1p box seemed to be a celebration in our house, not a disaster.
Something changed in the following year though, D didn't like either programme anymore and would scream if they were turned on. Maybe they reminded D of her nursery sessions, with the letter and number emphasis? She didn't have an especially good time in mainstream nursery but as we had neither a diagnosis nor statement, we had to continue with it.
So, neither programme was watched for a while, until today..
We've watched "Deal or No Deal" with D realising the concept behind it – get rid of the blue boxes and hold onto the reds. D was looking at the amounts as they came out of the boxes and whilst she doesn't remember watching it at all when she was little, she did enjoy watching it today.
Progress and a nice change from The Goodies!!
Thanks for reading Jx 😘
---
---