A day where things (finally) got done…
D went into school very well today. I'd said to her that she needed to as I had reserved and needed to pick up her birthday present – its 18 days away but the gift was on special offer 😃. Well done D!
Someone from her school phoned and they are going to let us try out a weighed blanket for calming her and also provide a social story for when she is out and about. Considering that D's main anxiety is other people – she thinks they're trying to take her away and she says they look like zombies – I don't know how the social story will look at all!
We are also (finally) after 3 months in limbo-land on the way to a CAMHS appointment too, they also phoned today and we had a really long preliminary chat. The relief knowing that we are now on the waiting list is immeasurable.
And then at home I had a letter from the paediatric department who initially said they wouldn't see her due to lack of resources, offering an appointment! Left hand…right hand springs to mind.
After all that, D came out of school well, bounding into me, hair still wet from swimming. She was far more interested in getting home than discussing her day so I'm presuming no "boy who picks on her" issues.
There were a couple of "moments" playing with T in the garden, with a lot of focus needed on "squeeze my hand and let it out" – which she did, rather loudly!
She spent ages making a triangular tower out of little paper cups tonight, each containing a little craft pom-pom. All very meticulously done, with a great deal of focus.
I haven't felt like I've raised much awareness today, been on the phone for much of it but things have been achieved today!
Thanks for reading, comments/RTs as ever welcomed.
Tonight's picture is D and Bunny: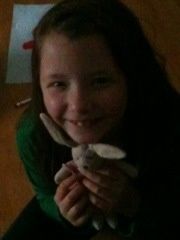 ---
---