I watched the first episode of "Touch" last night, new episodes in UK are Tuesday evenings, on Sky One.
I was interested in seeing it from the previews, which described the child, Jake, as mute and having been misdiagnosed with severe autism.
Kiefer Sutherland plays the father of Jake and his character's love for Jake and frustrations at not being able to communicate shine through. As the Mumma of an autistic child who is verbal (apart from moments of extreme anxiety or stress), I cannot imagine how parenting a non-verbal child is. Anyone that does – in fact every special need parent – has my admiration and respect.
I became fascinated by the inter-connection of numbers during last night's programme, cannot wait for the next episode. Really interested to see how this is carried forward with the grumpy speech therapist character.
The whole programme set me thinking last night and I remembered something which had been dormant for years.
When I was first married to C's father (first husband) before we had C, we saw a fortune teller on a beachside pier. All crystal ball and reading your palms, paying with notes not coins though!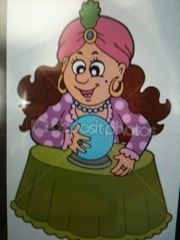 I went in, not giving anything away but obviously as I was wearing a wedding ring, she spoke of "one child, maybe two more" and also that "within 18 months you would be living in a cul de sac".
For my (then) husband, she spoke of eventually having his own business.
By the time we were married, I had already had one miscarriage and went on to have another one before successfully carrying C so I always presumed that was the "one child, maybe two more". Little did I know!!
I didn't move into a cul de sac but we have a curvy service road at the back of the house. I guess it depends what you want to believe. I spent 16 years in my house before moving – just before D came along.
I do know of someone who went to see a fortune teller whilst she was married to husband number two, who got told she would marry for the third time! I guess if you're told something like that and unhappy anyway, it might influence your thinking. She didn't marry again by the way – as yet!
So.. Yes, I did have the one plus two and I'm sort of in a cul de sac and very happily married to Hubbie (number two) – long may it continue!
Whatever influences who we are, how we do things, I don't know but really interested to see how the "Touch" series progresses.
I perceive the "Touch" title not to be about Jake not wanting to be "touched" but more about the "butterfly effect" – how one small event can set off a chain of other events and all the people effected are inter-connected and touched by an invisible link.
Comments/RTs as ever welcomed Jx 
---
---