I don't know why but this half term has been really challenging so far.
Maybe it's because both T & D are tired after working hard at school.
The birthday party D went to on Saturday didn't help (see earlier post).
Maybe it's because D's meltdowns have increased since Christmas, we're currently stuck in the referral process for paediatric doctor and hopefully CAHMS referral.
Maybe it's the onset of puberty (we have been told she will start it early).
Or maybe I'm more aware and constantly looking out for triggers and trying to pre-empt them.
Yesterday afternoon was horrible.
The morning had gone really well, they'd all made rain shaker type things out of toilet rolls – details on earlier post – and were letting off some energy on the trampoline.
T and D were playing with a ball when she wanted the ball and he didn't give it to her. He did a bounce and ended up lying down on the trampoline and D purposefully kicked him.
Poor T. D then stomped off, she'd realised she'd hurt him and there was a lot of "smack me, hurt me" talk – we don't by the way. And she stormed off to her room.
T's injury needed cleaning off and he needed comforting. He was shocked and obviously upset. Once he was calm it was time to have a chat to D.
I used that deep cuddle that she needs, got down to her level and tried to get her to tell me why she'd done it. She couldn't explain. She had that blank look in her eyes which is always meltdown related. She tried to bite her hand too, wouldn't direct any of it into a big squeeze onto my hand which usually works.
Eventually she said she was sorry and T said he forgave her. I tried not to mention it again as I didn't want any more outbursts.
I know it's catching it before it happens but yesterday wasn't fair on T, he has such unconditional love for her – we all do – but she's getting so much taller and stronger now. There's 18 months between them, she's younger, but you'd think she was the elder one.
I guess I just have to have eyes everywhere, note this down and tell paediatric doctor when we get the appointment.
It's not nice though when one of your children deliberately hurts the other.
Thursday: delighted with her Angry Bird hat and very appropriate after yesterday.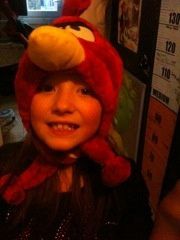 ---
---